Varna z Pohranicni straze



Classification: ZVV1, Breed Survey: 5CU1/P, Selective Breed Class 2







  Hips/Elbows: 0/0, Show Rating: Very Good
Varna z Pohranicni straze was imported to the USA from the Czech Republic.  She was purchased privately from a working dog breeding program owned by the former head of genetics for the z Pohranicni straze government kennel. Varna was one of the last females to be raised in the world famous z Pohranicni straze Kennel. Bred when dogs at this kennel where produced in the spirit of the true Czech Border Patrol working German Shepherd.

Varna was a female with perfect boning and flawless temperament. Varna had great social character and was very controllable. Her working drives were very high with very strong retrieve and protection drives. Varna exhibited excellent working instincts and performed with speed, strength and accuracy!  The characteristic will to work, nerve and versatility was clearly evident in her.

Varna's bloodlines ensured that she produced working progeny that was very healthy, versatile and successful. Varna was the daughter of the great stud dog ARGO z Travnickova dvora and the granddaughter of Arys z Travnickova dvora who was the Champion of Service dogs in Slovakia and famous for his 0/0 progeny.  The mother of Varna was DARKA z Pohranicni straze, a typical GRIM z Pohranicni straze daughter. Grim was an exceptional stud dog. He attended the World Championship of German Shepherd dogs and was evaluated as the best in protection.

Varna came from a dysplasia-free litter where all littermates possessed 0/0 (excellent) hips and elbows, as did her mother DARKA!! Darka z Pohrancini straze: ZVV 1, 0/0, dobry, 5CU1/P was one of the most intensively used breeding females in the famous z Pohranicni straze kennel. She was well known for producing litters that were characteristic of the great kennel, with perfect hips and elbows, strong working drives and balanced character type. Varna produced 2 excellent litters overseas: From her breeding with Furo Kamos she produced the well known EX z Jirkova dvora: Hips; a normal, Titled SchH1, Kkl2, ZW; 85, SZ.2154944, a strong stud dog now residing in Germany.  Her breeding to Ory produced: AGAR-sluzebni pes PCR-SPV, ARCO-ZM, BH, ZVV1, FPR1, IPO2, VPG1, ZPO1, ARKYN- ZM, ZVV1.

.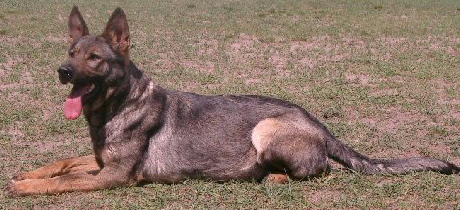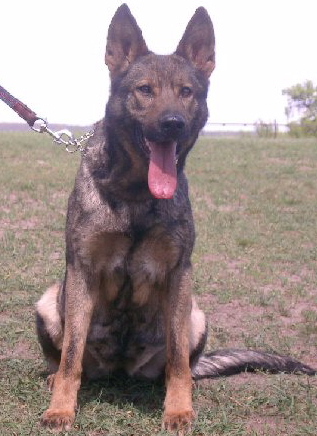 <Mirai of Sapphire Mountain "JAZZ" - Jazz's mother is...